English
Tugu Hotel Blitar has been Certified with CHSE Label
Kamis, 14 Januari 2021 - 03:16 |
58.59k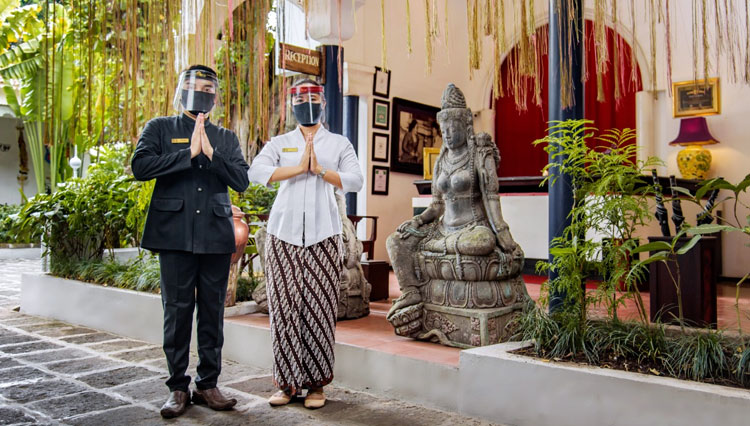 TIMESINDONESIA, JAKARTA – Tugu Hotel Blitar strengthen their position by achieving CHSE (Clean, Health, Safety, and Environment) label from the Ministry of Tourism and Creative Economy. This label certify that the hotel has aply the safety and cleanliness standard protocol during this pandemic.
"With this achievement it makes all hotels under the management of Tugu Hotels & Restaurants has been labeled with CHSE," Lucienne Anhar Managing Director Tugu Hotels & Restaurants said on tuesday (12/1/2021).
Advertisement
Lucienne also said that it was such an honor for Tugu Hotels and Restaurants Group to have this label. Its shows their place as a trusted hotel amongst other prestigious hotes in Indonesia.
She also Hope's that through this achievement all Hotels run under Tugu Hotels and Restaurantsmanagement will keep doing their best to give an utmost service and hospitality as well comfortability to their guests and customers.
For all this long, Tugu hotels has been known to be a high class hotel which gives fancy experience with their artistic design. You could find Tugu Hotel in several big city in Indonesia such as Tugu Hotel Bali, Tugu Hotel Lombok, Tugu Hotel Malang, and Tugu Hotel Blitar. (*)
**) Ikuti berita terbaru TIMES Indonesia di Google News klik link ini dan jangan lupa di follow.
---
---
---
Konten promosi pada widget ini bukan konten yang diproduksi oleh redaksi TIMES Indonesia. Tidak ada aktivitas jurnalistik dalam pembuatan konten ini.