English
Kebaya Goes to UNESCO, the Indonesian Way to Support the Program
Jumat, 12 Agustus 2022 - 02:18 |
139.57k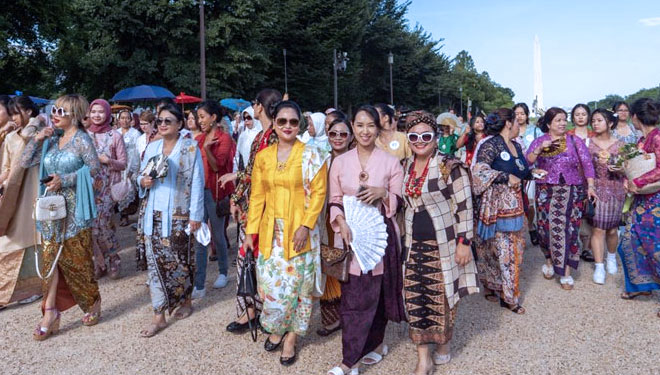 TIMESINDONESIA, JAKARTA – Indonesia has proposed UNESCO to make kebaya as one intangible heritage. The proposal has been sent and this make the local community either those who lives in the country or abroad showed their support in different way.
Just like what these 200 Indonesian who lives in Washington DC. They march together wearing kebaya and walk graciously wearing this aesthetic traditional costume at National Mall, Washington DC on Sunday (7/8/2022).
Advertisement
The group would like to show the world that they respect their culture as much as they respect the culture of the country they stayed in right now. "We will promote Kebaya as Indonesian culture in US so they know more about it," Ayu, the wife of Indonesian Ambassador for US said.
The group marched from National Mall to Smithsonian Castle while chanting the Indonesian folk songs. Some of them wear modern kebaya which combined with jeans or any modern outfit and some just wear simple traditional kebaya.
Aside of supporting the Kebaya Goes to UNESCO progam, this event was also to mark the Indonesia Independence Day on this August. The group will also held a ceremonial event on August 21 to top all the event of at Wisma Indonesia, Washington DC. (*)
**) Ikuti berita terbaru TIMES Indonesia di Google News klik link ini dan jangan lupa di follow.
---
---
---
Konten promosi pada widget ini bukan konten yang diproduksi oleh redaksi TIMES Indonesia. Tidak ada aktivitas jurnalistik dalam pembuatan konten ini.