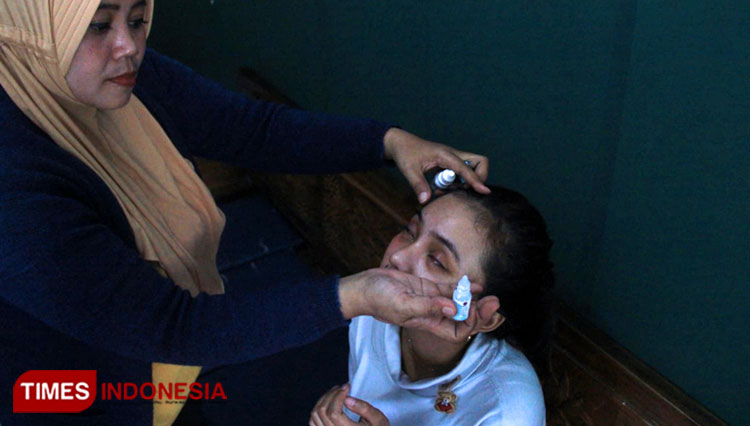 TIMESINDONESIA, JAKARTA – Syafarudin Refa, a local optometrist stated that she will help the patients whose eyes got injured from the tear gas during the soccer tragedy at Kanjuruhan Stadium till her last breath. She will dedicate her profession for a full month for those victims.
"We are ready to help. We will try our best for this full month starting tomorrow at Kepanjen. We make sure there will be an optometrist available during work hours," dr Refa said on Tuesday night (11/10/2022).
Advertisement
Refa also said that all the patients coming to their clinic will be treated equally and given the best treatment, especially those with severe infection which make their eyes red. "This will be our priority from 8 in the morning to 8 at night," she added.
Not only in her clinic, but Refa also said that this treatment will also available in several optometrist clinics. The patients could check themselves at RSSA Malang, Kepanjen Hospital, Lawang Hospital, and a clinic at Jalan DR Cipto Malang.
Refa expecting that all workers either health professionals or the officials will work together to collect some more information about all the victims during the soccer tragedy. "Those victims who got some issues with their vision will be taken cared well," she explained.
"I appealed to all the village administrator to help the victims to get some easy access that said they were one of the victims at the soccer tragedy in Kanjuruhan Stadium. They will be physically and mentally cured," Refa said.
Refa also appealed those media to stay in line helping to share the hotline for Trauma Healing number. As for now you could contact this number 0812 3257 579 for help.
"Let's hand in hand to do some good deed. A long traumatic end will be encountered by the victims and that's our responsibility to find the solution so they could get better," Refa commenting about the victims' condition after the soccer tragedy at Kanjuruhan Stadium. (*)
**) Ikuti berita terbaru TIMES Indonesia di Google News klik link ini dan jangan lupa di follow.
---
---
---
Konten promosi pada widget ini bukan konten yang diproduksi oleh redaksi TIMES Indonesia. Tidak ada aktivitas jurnalistik dalam pembuatan konten ini.