English
3 More Patients of Kanjuruhan Soccer Tragedy Treated Intensively
Kamis, 20 Oktober 2022 - 11:29 |
17.81k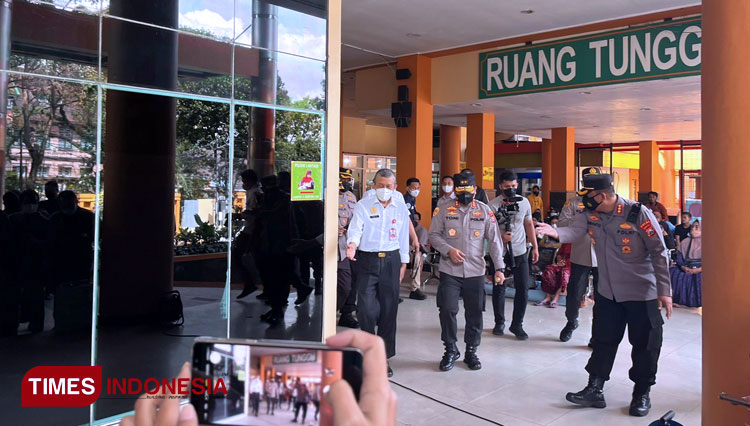 TIMESINDONESIA, MALANG – As of Tuesday (18/10/2022) the number of victims died from Kanjuruhan soccer tragedy has raised to 133 people. The last victim die was formerly charged and treated in RSSA or Saiful Anwar General Hospital Malang.
For your information, up until now there are around 3 more people left treated intensively by the health professionals at RSSA Malang. One of them was in critical condition and was monitored closely.
The hospital said that there were 2 male and 1 female left for intensive care. "There was one with critical condition, and the other to show a good sign" Acting in Director of RSSA dr Kohar Hari Santoso explained on Wednesday (19/10/2022).
Kohar didn't give details on their condition. He just said that the one with critical condition has a minimum change to survive. "He has a bigger chance not to survive. He just had a critical moment with death possibility," Kohar added.
Advertisement
Kohar also stated that the three of them still wearing some device to help them breathe. All of them three were monitored closely for their vital sign. Though some giving an unwanted sign, but the health professional still hopes for some miracle for them to be able to survive.
As for now, RSSA Malang still treated 6 more people injured in total from the soccer tragedy. Three of them were treated intensively and the rest 3 others charged in wards for common care with medium injury.
During the occasion Kohar was escorting the new Head of Regional Police of East Java Ins. Gen. Pol Toni Harmanto checking and visiting the patients in their wards. This is his first visit after appointed to be new chief in charge.
"I just came from Jakarta this morning and directly headed to this hospital. As the new official in charge, I came here to show my sympathy and I'm sorry for what they had so far. Especially when one of them had no chance to survive anymore yesterday," Toni said.
For your information, Kanjuruhan soccer tragedy has taken 133 lives away and more than 600 having minor to severe injuries. Police and the local government still monitoring the victims survived and make sure they have proper treatment for their injuries.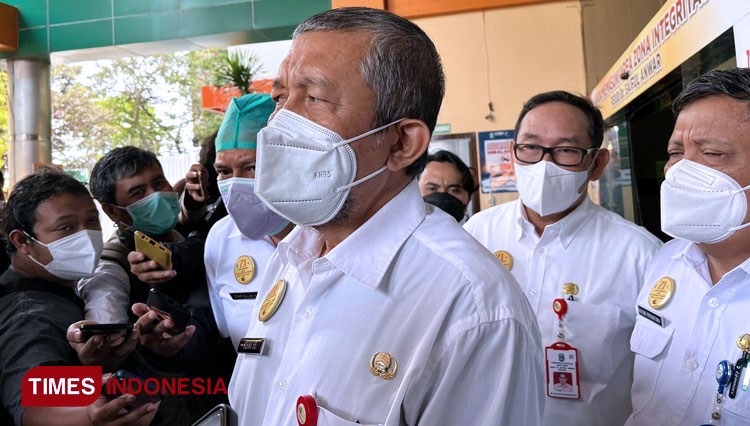 Acting in Director of RSSA dr Kohar Hari Santoso explaining about the latest condition of the patients. (Photo: Rizky Kurniaan Pratama/TIMES Indonesia)
The government also doing some deep investigation on the issue to find out the culprit behind the tragedy. As for now, the Joint-Fact finding team has raised their case and give all their finding to the police in charge of the case.
The president of Indonesia Joko Widodo has also ordered the Ministry of Public Works and Housing and the Ministry of Youth and Sports to renovate the stadium for the better. And they have started to find the perfect design for the new stadium.
The new stadium was planned to be finished by a year from now. It was expected to have a better construction and design that will never allow such this accident happened for the second time.
Beside renovating the Kanjuruhan Stadium, the government will also take a look on every stadium in the country and renovate them one by one for the sake of the people and football industry.
FIFA in this case doesn't give any sanction for Indonesian football and choose to support the industry and give a better solution. They even will establish an office in the country to help Indonesian football stand in a new better shape.
"On behalf of Regional Police, we are really sorry for the accident, and we will make sure that the case will be processed. We came back to Surabaya to do the crime scene reconstruction," Toni's statement towards Kanjuruhan soccer tragedy. (*)
**) Ikuti berita terbaru TIMES Indonesia di Google News klik link ini dan jangan lupa di follow.
---
---
---