English
Sushikun Kediri, the First Sushi Conveyor Belt Restaurant in Kediri
Rabu, 26 Oktober 2022 - 06:13 |
22.61k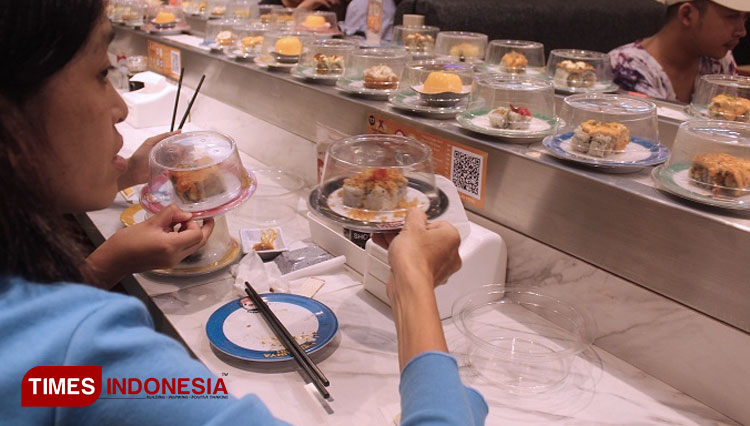 TIMESINDONESIA, JAKARTA – Sushi is one of the most famous Japanese dishes from Japan that is usually enjoyed on special occasions, such as celebrations. Sushi has quickly become one of the most famous international dishes, which means that it is easy to find a sushi restaurant anywhere in the world, including in Kediri, a city in Indonesia. Sushi is welcomed in Kediri with great enthusiasm. Seeing this opportunity, Sushikun is coming to town. Sushikun opened its 10th outlet in Kediri, on the second floor of Kediri Town Square, to be exact. 
Sushikun is not an ordinary sushi restaurant. It is the first sushi conveyor belt restaurant in Kediri, where the plates serving the sushi are placed on a rotating conveyor belt that winds through the restaurant and moves past every table. That is the distinguishing feature in Sushikun, which attracts people to come and enjoy their wide variety of sushi. 
Advertisement
Sushi conveyor belt was invented by Yoshiaku Shiraishi in the 1950s. He had problems serving customers in his small sushi restaurant and had difficulties managing his small sushi restaurant all by himself. Fortunately, he got the idea of making a sushi conveyor belt after watching the beer bottles on a conveyor belt in a brewery in Asahi. Finally, after five years, Shiraishi succeeded in opening his first sushi conveyor belt in 1958. He was finally able to expand his sushi restaurant to 250 restaurants all over Japan.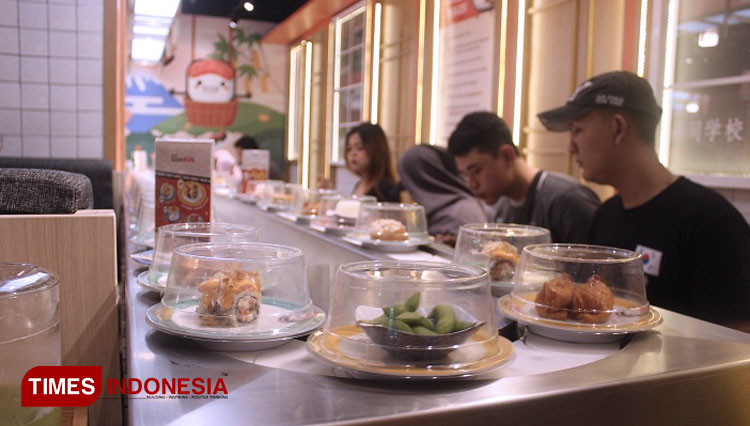 Customers at Sushikun (PHOTO: Yobby/TIMES Indonesia)
"I've never seen something like this. That's why I come here to enjoy the sushi from the sushi conveyor belt," said Karisma, one of the locals that come to Sushikun with her family. 
If the customers cannot find their desired sushi or dishes, they can directly order the sushi from the QR Code provided on the table. 
Sushikun serves a wide variety of Japanese dishes and sushi, such as Inari, Nigiri, Gunkan, Fried Roll, Volcano, Ramen, and Donburi. 
"There are many choices of menu in Sushikun," said Putra, one of the sushi enthusiasts from Kediri. 
Andries Trisyanto, the Operational Manager of Sushikun knows that people in Kediri have great enthusiasm for sushi. That's why, this is a great opportunity for Sushikun to open their new outlet in Kediri. 
"We want to be a sushi pioneer in Kediri. We also want to expand our business in this arena" said Andries. 
Sushikun serves relatively affordable dishes, a family-friendly restaurant. Sushikun has an authentic Japanese restaurant ambience that will make everyone feel comfortable to spend their quality time.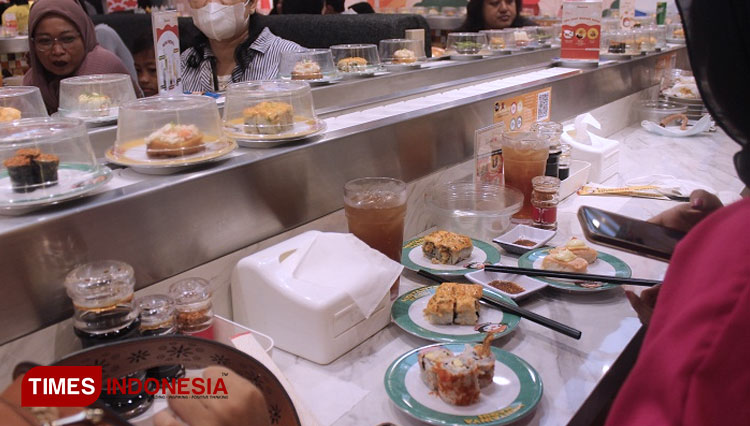 Customers enjoying delicious sushi at Sushikun (PHOTO: Yobby/TIMES Indonesia)
"We are a family-friendly restaurant. The prices are relatively affordable, starting from IDR 10,000 for the dishes, and IDR 7,000 for the beverages," Andries added. 
The signature menus at Sushikun are Aburi Salmon Mentai, Prawn Salmon, Inari Kani Mentai, Japanese Spicy Mentai, Tiger Chicken Roll, and Salmon Skin Roll. For additional information, mentai is a creamy mayonnaise sauce mixed with fish roe (tobiko) that has been a popular sauce these days, especially among Japanese foods enthusiasts. 
"We highly recommend sushi with mentai topping to our customers," added Andries. 
Come to Sushikun Kediri to experience the most authentic Japanese sushi restaurant with the first sushi conveyor belt. Don't forget to take your best companions with you to enjoy the most authentic sushi in this place! (*)
**) Ikuti berita terbaru TIMES Indonesia di Google News klik link ini dan jangan lupa di follow.
---
---
---