English
3 Top Places in Bandung with Mesmerizing Water View
Selasa, 08 November 2022 - 02:47 |
13.08k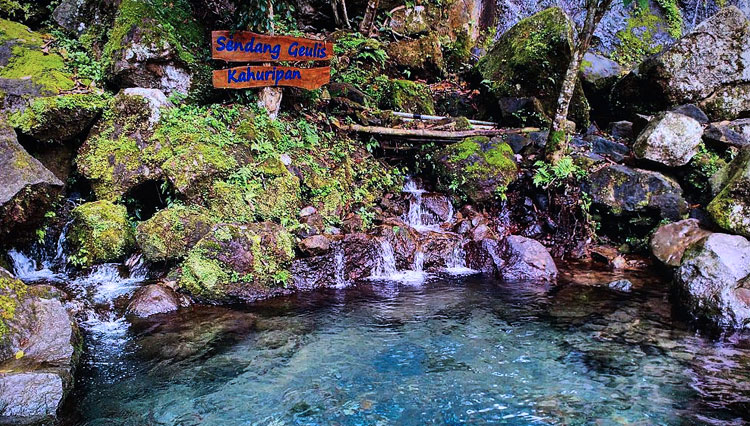 TIMESINDONESIA, BANDUNG – Bandung can't be underrated if we were talking about its' tourist destination. This city has dozens of spectacular place to go to spend your holiday. Each place offers such unforgettable moments to capture. Including all those lakes.
The city landscape which surrounded by mountains and lake made the place has such a nice cool climate. Lots of people will come to this city just to hike and enjoy the magnificent view from above.
Some will just go to the local lakes to enjoy their moments with their family and camping outdoor next to the lake. Some of them will just visit to run away from the hustle and bustle of the city and spending their time alone with fishing.
Speaking about lake, there will be loads of lake in in Bandung to go. But we will list you top 3 lakes which offer such stunning view as well will give you a precious moment.
1. Talaga Cikahuripan
This lake is also known as Sendang Geulis Kahuripan or Sirah Cai Kahuripan by the local community. Located at Ganjarsari, Cikalong Wetan, West Bandung, West Java this place is a small lake with crystal clear spring water.
This small lake is surrounded by lush green trees and located in the middle of the forest. however, this is quite accessible and could be visited by anyone, except you need to park your vehicle a little far from the lake, then you need to walk around 5 to 10 minutes to your destination.
Talaga in the local language means spring water, meanwhile Cikahuripan means life. The name was taken from the main function of the lake itself for the locals. The local community also use the water for irrigation. They water their field with it and some will take the water for consumption.
The management also add a pool nearby the lake, but it seems that the pool doesn't get a proper maintenance. The best way to enjoy the lake is by dipping your body in to the spring. To get in to this place you will need to pay IDR 15 K/pax.
2. Sanghyang Heuleut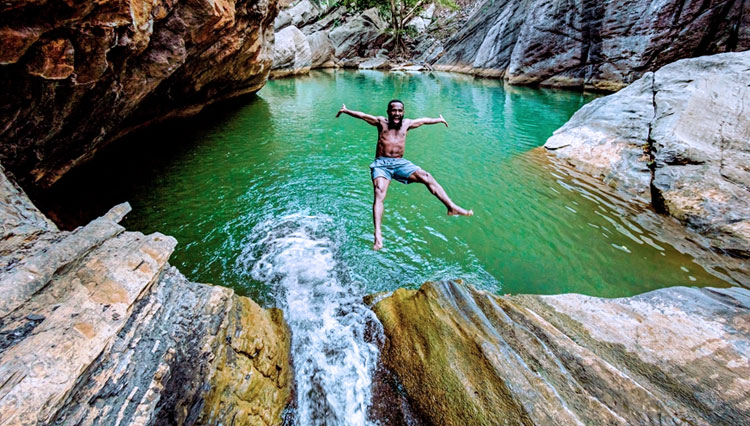 A man doing the somersault to enjoy Sanghyang Heuleut. (Photo: Ganjar Mustika)
This place will be perfect for those adrenaline rush seeker. It's quite secluded and not much people known this place until one day a guy took a picture of his friend doing somersault on the lake in the middle of 2020.
To enjoy this place, you better go on summer when the water will be a bit receded and show its best emerald green color. During the rainy season the water will changes especially when the rain comes due to the mud coming down from the mountain.
Sanghyang Heuleut will give you a wonderful view in the morning, wonderful glazing shine of the sun at 9, and nice cool water even if it was in the middle of the day. This place opens daily from 08.00-16.00 local western times. You will need to pay for IDR 20 K/pax to get in this beautiful place.
3. De Bloem Lakeview Villa
For those who willing to enjoy the beauty of Situ Cileunca in Hollywood way, you could visit De Bloem Lakeview Villa. Located at Jalan Situ Cileunca, Warnasari, Pengalengan, Bandung, West Java this place seems like giving a star vibe holiday.
This place has several private villas with direct access to the lake. Each villas were equipped with modern facilities including indoor bathroom, living room, tv, and personal kitchen to support and pamper you during your time spending your days at the villas.
The price of the villa will range from IDR 1.5 M - IDR 3 M/night. The nice view, the facilities, the beautiful moments were so worth the price. This way you will be able to enjoy the beauty of this popular lake of Bandung in fancy way. (*)
**) Ikuti berita terbaru TIMES Indonesia di Google News klik link ini dan jangan lupa di follow.
---
---
---