English
G20 Indonesia
G20 Indonesia Summit Has Been Started
Selasa, 15 November 2022 - 11:17 |
8.78k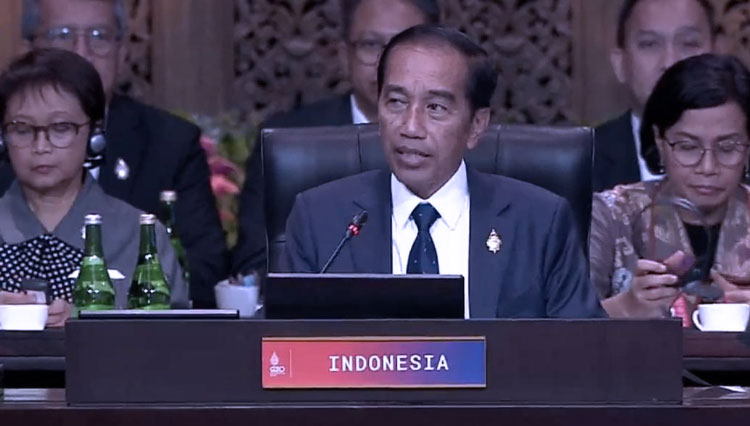 TIMESINDONESIA, BALI – Joko Widodo the President of Indonesia officially opened the G20 Indonesia summit in Bali today, Tuesday (15/11/2022). Before the grand opening, the president who was also called Jokowi welcome the world's leaders one by one at the main entrance to the Nusa Dua Convention Centre.
Together with Biden, Jokowi enter the room as the last world's leaders attending the summit. Accompanied with Sri Mulyani the Minister of Finance Indonesia and the Minister of Foreign Affair Retno Marsudi, Jokowi opened the international summit.
Advertisement
"Excellencies, leaders, good morning, I here by declare the G20 Summit open," Jokowi said while opening the summit with 17 other world leaders in the room while knocking the gavel 4 times in a row.
The president also said that he as the president of Indonesia feel pleased and honor to have this event held in the country. "Welcome to Bali".
Welcome to Indonesia. It is an honor for Indonesia to host the G20 summit. I fully understand it has been a great effort for us to sit together in this room," he added.
During his speech Jokowi stated about the democracy that has been applied in Indonesia. He also stated the importance of dialogue which will bring everyone together on a table which should be shown by the member of G20.
He also emphasized all the member of G20 to be responsible and respecting the international laws and the principles of UN Charter. Including participating in ending the war or those cold war sparks in the world.
"If the war has not end. It will be difficult for the world to move forward.
If the world does not end, it will be difficult for us to take responsibility, for future of current generation, and future generation. We should not to divide world into parts, we must not allow the world fall into another cold war," Jokowi said after opening the G20 Indonesia summit.
**) Ikuti berita terbaru TIMES Indonesia di Google News klik link ini dan jangan lupa di follow.
---
---
---
Konten promosi pada widget ini bukan konten yang diproduksi oleh redaksi TIMES Indonesia. Tidak ada aktivitas jurnalistik dalam pembuatan konten ini.