English
G20 Indonesia
Jokowi on G20 Indonesia: Crisis is Not Over Yet
Selasa, 15 November 2022 - 13:49 |
7.58k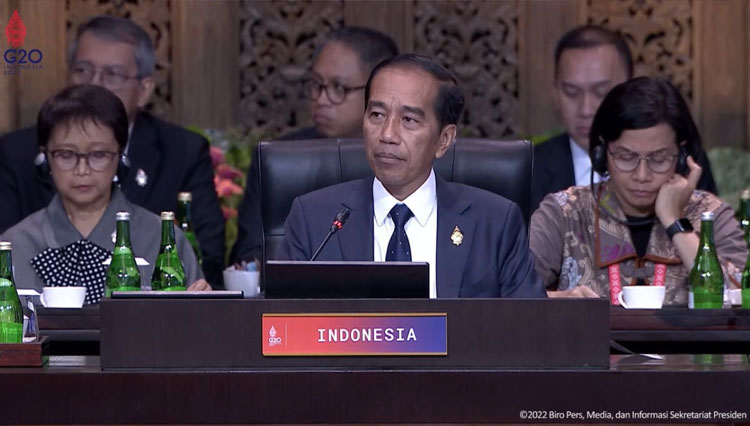 TIMESINDONESIA, BALI – Indonesian President Joko Widodo opened the G20 Indonesia Summit in Bali, Tuesday (11/15/2022). President Jokowi welcomed all world leaders present.
"Leaders, good morning, today I declare the G20 summit open," Jokowi said.
Jokowi said Indonesia was honored to host the G20 summit. He also alluded to joint efforts to be able to sit together to be able to find common solutions to global problems.
"Welcome to Indonesia, it is an honor for Indonesia to host the G20 Summit," Jokowi said.
President Jokowi has spoken about the challenges of the crisis facing the world. According to Jokowi, developing countries are most affected due to the current world situation.
"The world leaders that I respect, the world is going through tremendous challenges. Crisis to crisis occurs, the existence of Covid-19 is not over, rivalries continue to vary, wars occur, and the impact of the crisis on food security, energy, shortcomings felt by the world, especially developing countries," he explained.
In addition, President Jokowi revealed that currently the world's view is directed at the G20 summit, so he hopes that the G20 forum should not fail.
"The G20 must succeed and must not fail. Success can only be achieved without exception having to commit, set aside differences to produce something concrete and something useful for the world," Jokowi said.
As we know, the G20 Indonesia Summit will take place on November 15-16, 2022 in the Nusa Dua area, Bali. Indonesian President Jokowi has stated that there are already 17 countries that have confirmed their presence at the G20 Indonesia Summit. (*)
**) Ikuti berita terbaru TIMES Indonesia di Google News klik link ini dan jangan lupa di follow.
---
---
---