English
G20 Indonesia
G20 Indonesia Summit Luncheon, Jokowi Presents IOC and FIFA Presidents
Selasa, 15 November 2022 - 14:58 |
11.82k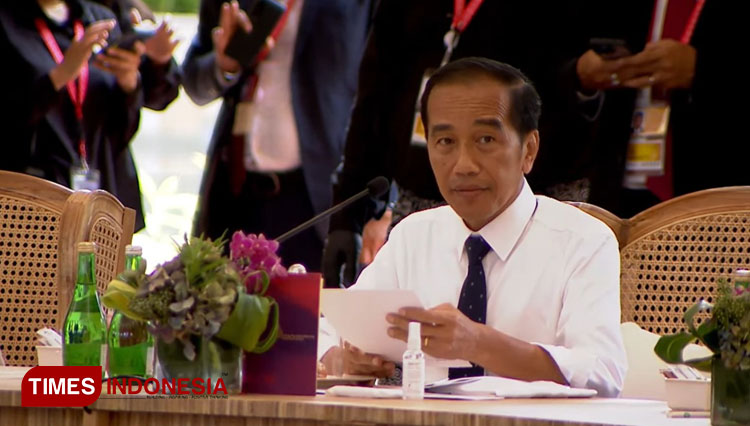 TIMESINDONESIA, BALI – President Jokowi held a luncheon for world leaders at the G20 Indonesia Summit. The location of this luncheon at Bamboo Dome, The Apurva Kempinski, Nusa Dua, Bali.
Before holding the luncheon, President Jokowi invited the President of the International Olympic Committee (IOC) Thomas Bach, and FIFA President Giovani Vicenzo Infantino to speech in front of the world leaders.
"Well, enjoy your lunch," President Jokowi said in Bali, Tuesday (11/15/2022).
In this luncheon, the world leaders present at this luncheon looked more relaxed. They didn't wear suits and only wore white shirts with their hands folded. At the same time, the other leaders wore their own country's signature clothes.
Jokowi used a golf car to move from the location of the G20 Indonesia summit to the Bamboo Dome. Jokowi is seen wearing a white shirt and tie. On the trip, Jokowi drove the golf car directly with Kristalina Georgieva as IMF Managing Director, OECD Secretary-General Mathias Cormann, and ISDB President Muhammad Sulaiman Al-Jasser.
Shortly after, Jokowi and the leaders of other countries arrived at the Bamboo Dome. Jokowi had a brief conversation with Saudi Arabia's Crown Prince Mohammed bin Salman (MbS), President Recep Tayyip Erdoğan, and German Chancellor Olaf Scholz.
This world leaders luncheon is very special because it uses food ingredients from all over the archipelago. Starting from Medan duck, Gayo coffee, to other ingredients.
In the meantime, the G20 Summit is a strategic multilateral partnership that connects countries with the world's major economies. G20 members represent more than 80 percent of the world economy, 75 percent of international trade, and 60 percent of the world's population.
The G20 Indonesia Summit is intensely conducted annually by presenting each head of state or head of government. This year, Indonesia officially holds the G20 presidency after previously being held by Italy.
**) Ikuti berita terbaru TIMES Indonesia di Google News klik link ini dan jangan lupa di follow.
---
---
---