English
G20 Indonesia
IOC President Calls for Sports to Unite the World at G20 Indonesia
Selasa, 15 November 2022 - 20:57 |
8.41k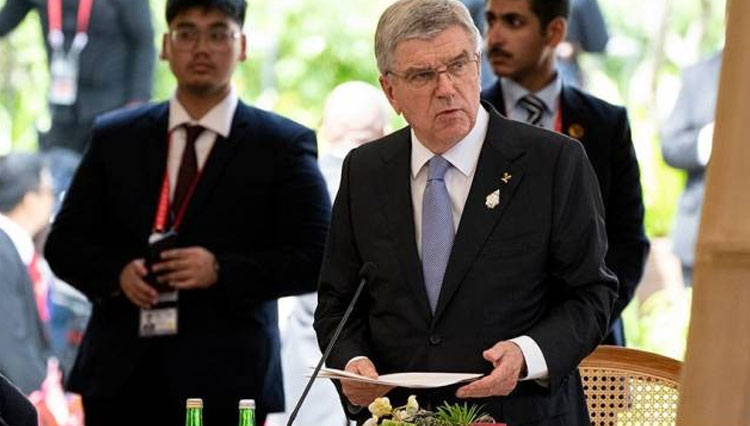 TIMESINDONESIA, DENPASAR – International Olympic Committee (IOC) President Thomas Bach called for world unity through sport. This was conveyed during the lunch banquet of the G20 Indonesia Summit at The Apurva Kempinski Bali, Nusa Dua, Bali, Tuesday (11/15/2022).
Thomas Bach said the competence among athletes from countries which has the same ideas is not a symbol of gradual peace. He added, currently some governments on political grounds are starting to decide which athletes are allowed and not allowed to participate in international sports competitions, especially for athletes who will compete in the Paris 2024 Olympics.
Advertisement
"In this era of division, our role is clearly to unite the world and not deepen the division," The IOC President said.
He continued that if the sport becomes another tool to achieve political goals, thus international sports will fall apart. The decision on the participation of athletes should be based on sports achievements and open politics.
"We need the participation of all athletes who accept the rules, even and especially if their country is in confrontation or at war," Bach remarked.
Later in the speech, IOC President reiterated that all parties fulfill the mission as a unifier so that the IOC must be politically neutral and allow future Olympic hosts to welcome the best athletes from around the world.
He also appealed the world leaders to support neutrality, regardless of the ongoing conflict.
"I humbly ask that you give us the opportunity to contribute to peace and understanding through sport." The Olympics are the most important symbol of peace in the world today," Bach spelled out.
"Let us not abandon this valuable Olympic and Paralympic unifying mission at a time when the world needs more solidarity and peace," Bach said to the G20 leaders in attendance.
In addition, IOC President Thomas Bach and FIFA President Gianni Infantino were given the opportunity by the President of the Republic of Indonesia Joko Widodo to give a speech at the G20 Indonesia Summit luncheon. (*)
**) Ikuti berita terbaru TIMES Indonesia di Google News klik link ini dan jangan lupa di follow.
---
---
---