English
G20 Leaders' Declaration, Condemn the War and Restore The Global Economy
Kamis, 17 November 2022 - 01:34 |
23.18k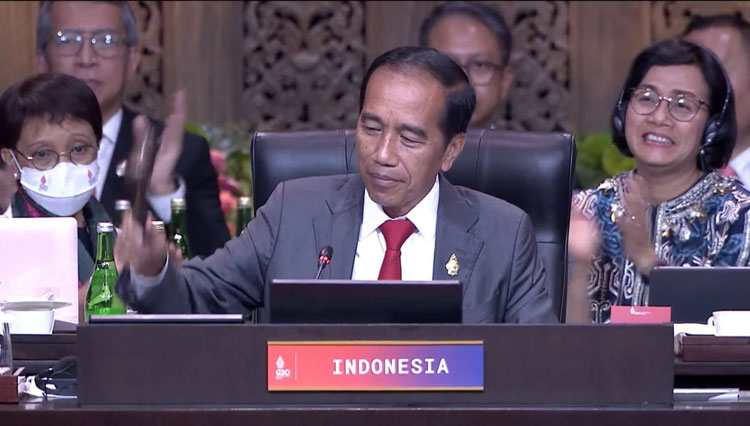 TIMESINDONESIA, DENPASAR – The G20 Indonesia Summit is held on November 15-16, 2022, in Bali has concluded. Leaders of the G20 countries have been agreed of G20 Bali Leaders' Declaration in which has 52 points.
In the declaration, G20 leaders expressed strong condemnation of the war. They lamented Russia's aggression to Ukraine.
"Lots of members strongly condemn Russia's illegal, unjustified and unwarranted war of aggression against Ukraine and call for an end to the war," the declaration said, Wednesday (11/16/2022).
Such conditions are considered to hamper economic growth, increase inflation, disrupt supply chains, increase energy and food insecurity, and increase financial stability risks.
Although condemning Russia, in the declaration, it is known that Indonesia's G20 leaders have different views regarding the Russian war situation and its sanctions. According to him, it is not appropriate to discuss geopolitics at the G20 summit forum.
"There are other views and different assessments of the situation and sanctions. But the G20 is not a forum for resolving security issues," the document reads.
G20 countries also agreed to take concrete, appropriate, swift action using all available policy tools to address the current global economic crisis. This includes international macro policy cooperation.
"We remain committed to supporting developing countries, particularly least developed countries and small islands developing, in responding to these global challenges and achieving the SDGs." as written on the document of G20 leaders' declaration. (*)
**) Ikuti berita terbaru TIMES Indonesia di Google News klik link ini dan jangan lupa di follow.
---
---
---