English
Jamus Ngawi Tea Garden Offers Natural Refreshment on the Slopes of Mount Lawu
Sabtu, 19 November 2022 - 03:12 |
20.19k
TIMESINDONESIA, NGAWI – Visiting a tea garden can be one of the interesting tourist options to visit with your beloved family. You might need to consider Jamus Ngawi tea garden which presents cool air with exotic views.
Well, one of the tea gardens in East Java that TIMES Lovers must visit is the Jamus Tea Garden . In addition to fresh air, nature tourism which is located on the slopes of Mount Lawu is famous for its beautiful scenery.
Guaranteed those of you who visit here will not regret it. The vast stretched green garden will give a pleasant holiday sensation.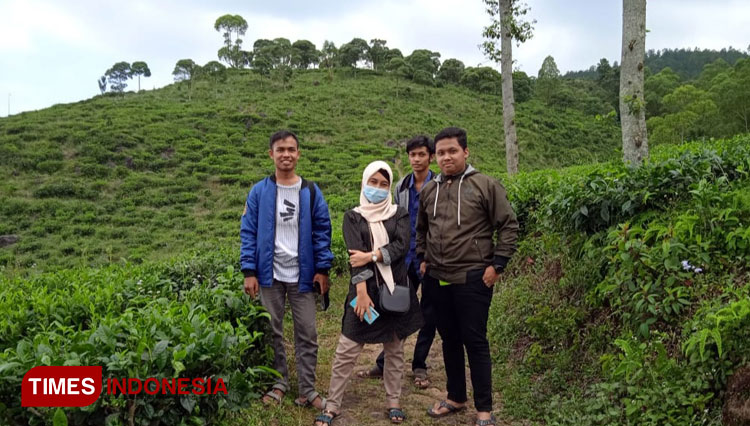 Visitors can learn how to harvest tea properly and correctly with farmers (PHOTO: Rohmadi/TIMES Indonesia)
Geographically, the Jamus Tea Garden is located in Gilikerto Village, Sine District, Ngawi Regency, East Java. The access to this tour is also quite easy, visitors can drive 2 or 4-wheeled private vehicles and can even travel together by bus.
It is approximately 45 kilometers from Ngawi or around 40 kilometers away from Sragen. To enjoy the beautiful scenery at the Jamus Tea Garden, visitors will be charged an entrance fee of IDR 15 K/pax.
Jamus Tea Garden, situated on 478 hectares area. The visitors can enjoy the natural beauty that is presented. Apart from the tea garden, they can also enjoy the rides provided, such as swimming pool, garden climbing, and various other interesting selfie spots.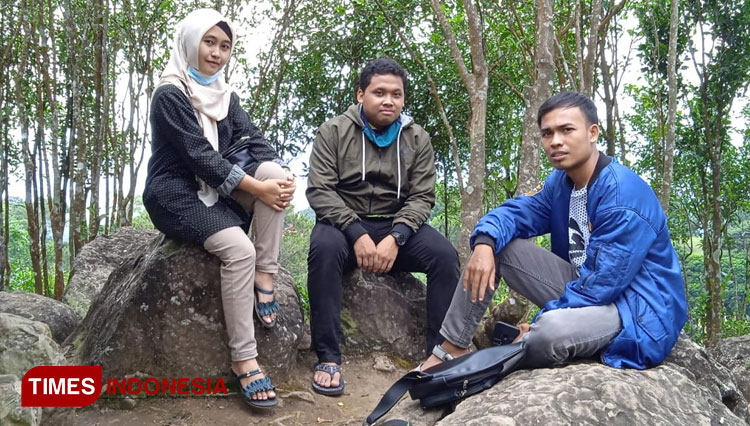 Many choices of photo spots for visitors can be enjoyed at the Jamus Ngawi Tea Garden (PHOTO: Rohmadi/TIMES Indonesia)
For those of you who like 'outbound' activities, this place is perfect for you to go. It offers modern nerve challenging activity such as zip lining and more. With this being said, lots of boyscout use this area for camping. Some families were also spotted pitpitching their tent around the area.
Interestingly, if visitors come before 12 noon, visitors can see the tea farmers who harvest every day. Visitors can see directly how to harvest tea properly and correctly.
You could also participate in picking the tea buds from the tree. The farmers will teach you the proper way in doing it.
Here, they have several types of tea plants, such as green tea, white tea, and black tea. Visitors can also taste the results of the tea garden directly. The reason is that there are also many stalls selling the original tea from the garden. It can also be used as a souvenir when visiting the Jamus Tea Garden.
Rohmat Syarif, a tourist from Sragen, Central Java, admitted that he was amazed by the beauty presented at the Jamus Tea Garden.
"The atmosphere is good, the air is cool, it is perfect for relaxing after a week of work," Rohmat told TIMES Indonesia, Saturday (12/11/2022).
Novi Rahmawati, a tourist from Ngrambe, Ngawi, often spent her holidays visiting the Jamus Ngawi tea garden . "It's been a while, because it's close to home but it doesn't feel boring. The air is cool and the scenery is good, so it's comfortable to be here," she explained. (*)
**) Ikuti berita terbaru TIMES Indonesia di Google News klik link ini dan jangan lupa di follow.
---
---
---