English
The Success Story of Intan Maghfiroh and Her Agate Accessories
Sabtu, 26 November 2022 - 01:37 |
14.67k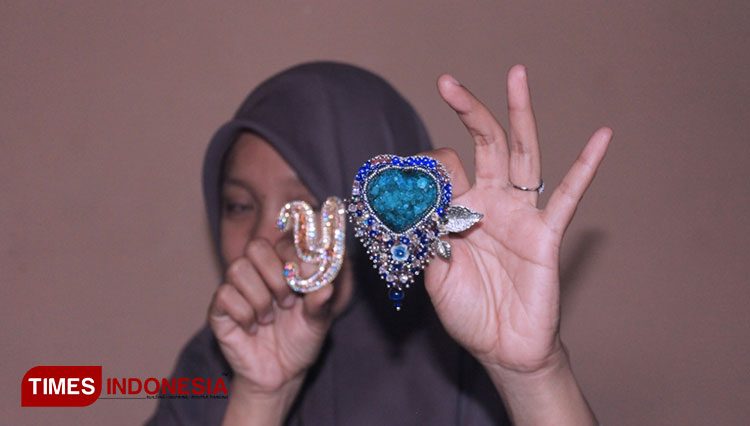 TIMESINDONESIA, PACITAN – Success cannot be achieved in the blink of an eye. Like Intan Maghfiroh, this young businesswoman from Tremas Village, Pacitan Regency, East Java, revealed the story of her journey in making jewelry from agate till she could introduced her product worlwide.
The business that provides a variety of thick agate accessories is named IntaniArt. The location is in RT 01/RW 05 Dusun Tanjung, Tremas Village, Arjosari District, Pacitan.
Advertisement
"Initially taking part in training in 2015, after that I did not immediately produce. So, I started to get serious about making it around the end of 2017," said the owner of IntaniArt, Intan Maghfiroh, Thursday (24/11/2022).
Intan said that her love for art has led her to produce quality works. Even though they have to go through a bloody struggle for their products to axist as they are now.
"In the past, I started out of curiosity. How to make it, I took apart the results of my training so that I know how it started, then imitated it," He said.
Furthermore, Intan assessed, if natural stone chalcedony is not only monotonously used as men's accessories, carnelian for example. He is more adept at combining the chosen material with beads. In fact, these quality handmade travel the world through foreign countries.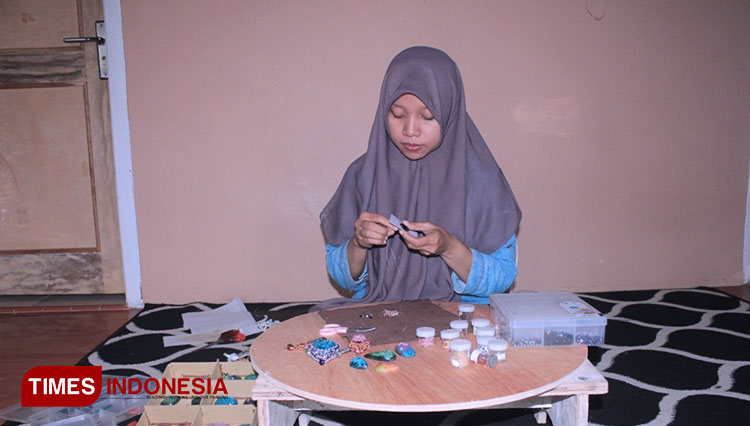 Full of patience, Intan Maghfiorh has been producing quality accessories since 2017. (PHOTO: Yusuf Arifai/TIMES Indonesia)
"Most of the types of stone that I use are druzy, chalcedony, agate and jasper. This also introduces Pacitan's local natural resources to the world," she explained to TIMES Indonesia.
Take Advantage of Online Marketing
IntaniArt Pacitan has a marketing strategy to keep up with the times, namely via online through personal social media platforms, such as Instagram and WhatsApp Business to make it easier for customers to get the products they are interested in.
These accessories are made using embroidery techniques, namely tying natural stones with beads and strung with special beading threads.
"Customers order via Instagram, what I post, they usually prefer something like that, like a kind of display," said Intan.
Production with Heart
A work is not only a matter of deadlines or the pursuit of profits but uses the heart. All IntaniArt Pacitan accessories are purely the creativity of the Owner. Of course, customers have an interest in terms of art and the quality of materials that are not arbitrary.
"Each result of the bross or per pics is not the same even if it's one hand. Purely, handmade, it's not only done by hand, but with heart. Sometimes mood affects the results," said Intan.
According to him, the manufacturing process cannot be rushed for maximum results. This adjusts the level of complexity of the motif and the amount of material itself. Meanwhile, all basic materials to knick-knicks are obtained from online.
"It does not have to be, it also depends on the model, it can take 4-5 hours at most, depending on the level of complexity and the size of the stone base material. All materials including the trinkets have their own suppliers," said Intan.
Even though IntaniArt is now well-known and fairly successful, it turns out that there are still a number of obstacles, such as not having employees and increasing material prices. Moreover, the wave of the Covid-19 pandemic two years ago became a record story of its own challenges.
"I often open vacancies, but there are not enough people interested to become employess. Even if I want to, I will teach you how to make it. What you need is patience," said the mother of one child.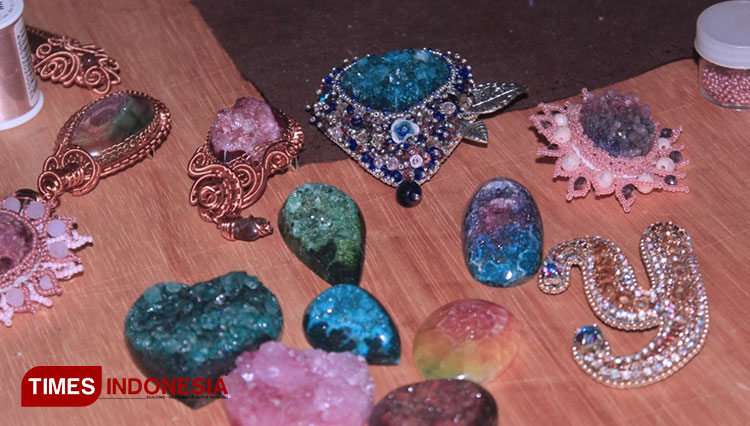 IntaniArt Pacitan handmade agate accessories are in great demand because of their quality and materials. (PHOTO: Yusuf Arifai/TIMES Indonesia)
With a capital of only Rp 300 thousand IntaniArt can make millions of rupiah in profit per week. Many customers order for souvenirs and gifts for colleagues or personal collections.
In line with the quality, one accessory will cost you around IDR 60 K - 700 K,depends on the complexity and the technique as well the beautiful agate and beading pattern. Besides being expensive, the beads come from Japan.
"Thank God there are more and more enthusiast. Sales progress has increased, more and more customers have been met from various regions and cities, even Singapore and Malaysia.
In addition, He invited young people, especially mothers, to be more productiveand innovative. With entgusiasm and optimism, the results will definitely be in accordance with the efforts made.
"The key is to be happy. Come on, be an empowered woman, so you don't just depend on your husband's income. Come on, work, let it become history," explained the owner of IntaniArt, Intan Maghfiroh, an agate accessories craftsman from Pacitan Regency who has successfully penetrated abroad. (*)
**) Ikuti berita terbaru TIMES Indonesia di Google News klik link ini dan jangan lupa di follow.
---
---
---