English
2 Recommended Tourist Destinations in Malang
Kamis, 05 Januari 2023 - 05:15 |
101.24k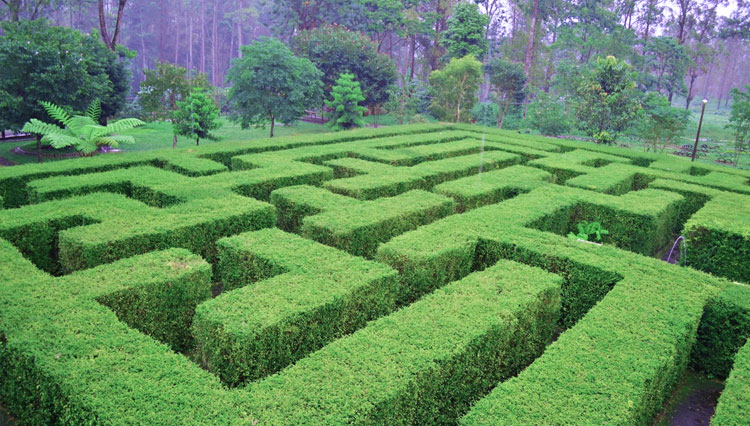 TIMESINDONESIA, JAKARTA – Malang is a regency in East Java that is famous for its tourism. There are two most recommended tourist destinations that you have to go to when visiting this city, namely Taman Labirin Coban Rondo and Desa Wisata Pujon Kidul.
Top 2 recommended tourist destinations in Malang. (PHOTO: official Instagram account of Sandiaga Uno)
Advertisement
These two recommendations are suitable for those who want to spend their leisure time for a simple yet refreshing vacation with their family, relatives and friends.
2 Recommended Tourist Attractions in Malang to Add to Your Bucket List
1. Desa Wisata Pujon Kidul (Pujon Kidul Tourism Village)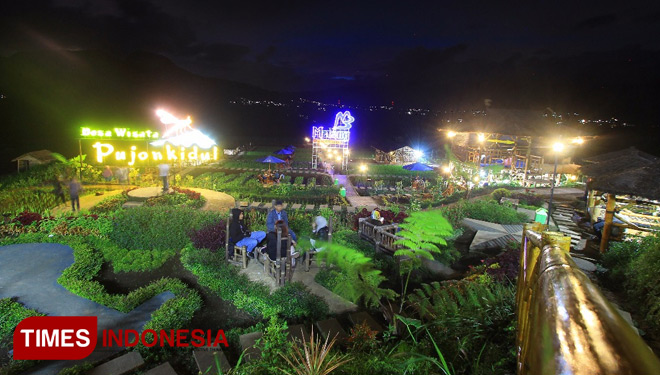 Pujon Kidul Tourism Village. (PHOTO: TIMES Indonesia/document)
This place is located in Pujon, Malang. This tourist attraction is famous for its café called Cafe Sawah. The village has been listed as one of the national tourist destinations. In addition to that, President Jokowi also showed his appreciation towards this tourist destination by posting Desa Wisata Pujon Kidul in his official Instagram account.
Cafe Sawah offers an unforgettable experience for anyone who wants to enjoy a rich, refreshing landscape of mountains and rice fields while sipping some delicious coffee. Just like its name, Cafe Sawah will let the visitors experience a unique dining experience in the middle of a vast rice field. The visitors will be able to enjoy their foods while sitting inside a gazebo in the middle of the rice field.
This outdoor cafe is a vast space that resembles rice fields, which covers an area up to two hectares. There are some farmers working around this area, planting, pruning, spraying, and irrigating the rice field. The gazebos are set up in the middle of the rice field, above the fish ponds and other planting areas.
Desa Wisata Pujon Kidul is financially supported by BUMDes (Village-owned enterprises). The income earned by BUMDes is relatively high. Although Cafe Sawah was closed for around 5 months during the pandemic, BUMDes could support the finance of PADes (Local village revenue) up to IDR 1.4 billions.

Cafe Sawah and its parking fee has contributed up to 90% (around IDR 8.96 billions) of the total revenue of BUMDes. The revenue of BUMDes in 2020 reached up to IDR 9.5 billions in total. Currently, BUMDes employs around 136 youths from Pujon Kidul Village.
2. Coban Rondo Labyrinth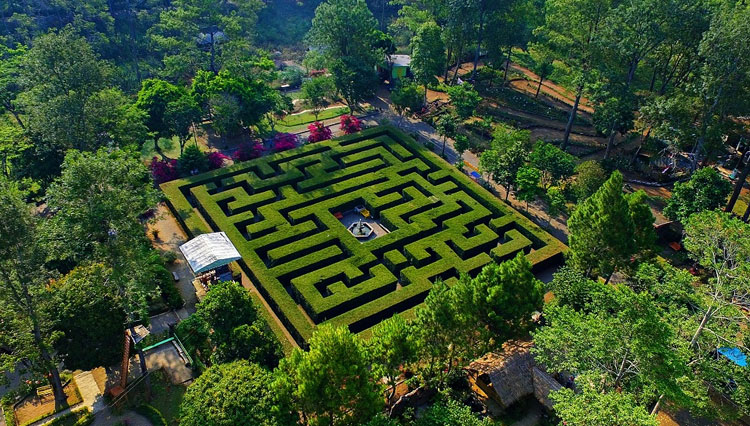 Taman Labirin Coban Rondo (PHOTO: pegipegi.com)
The second recommended tourist attraction is Taman Labirin or the Labyrinth of Coban Rondo that is located in the same sub-district with Desa Wisata Pujon Kidul, 15 minutes apart from one to another.
The labyrinth offers a stunning experience and beauty of a rich, green landscape. This tourist destination used to focus on Coban Rondo, one of the most famous waterfalls in Malang. However, the management saw the high potential of this tourist destination. Therefore, they decided to add a new tourism object called Taman Labirin.
The management uses greeneries to build walls forming a labyrinth. This labyrinth is not too vast, covering only 2,400 meter square.
Taman Labirin is a perfect spot for photo hunting. Most of the visitors come to this place only to capture their unforgettable, beautiful moments and scenery by taking a selfie. The selfie spots are available inside the labyrinth. In addition, visitors may also take a photo on the tower.
People may also experience the sensation of getting lost inside the labyrinth. Visitors will find it fun and thrilling to be able to explore the labyrinth as well as to find the way out.
Those are the top 2 recommended tourist destinations in Malang that you may add to your bucket list for your next vacation. You surely have to explore the exciting tourism in this city! (*)
**) Ikuti berita terbaru TIMES Indonesia di Google News klik link ini dan jangan lupa di follow.
---
---
---