English
The 2021 International Conference of Cardiac Care for Covid-19 patients
Selasa, 17 Agustus 2021 - 12:12 |
36.85k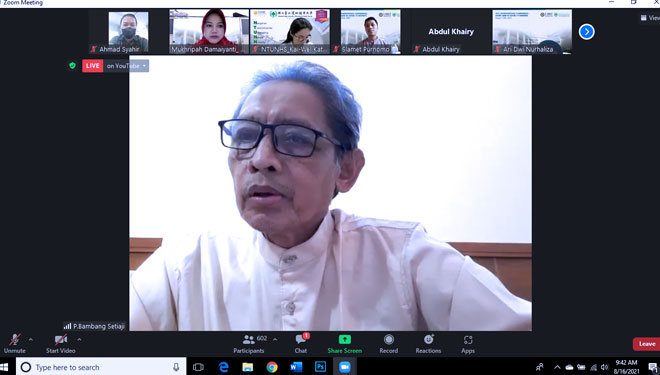 TIMESINDONESIA, JAKARTA – The Faculty of Nursing, Universitas Muhammadiyah Kalimantan Timur (UMKT) held the 2021 International Conference of Cardiac Care for Covid-19. This conference was held on online on Monday (16/8/2021).
Covid-19 virus that has shaken the world has not yet ended. Many countries have to spend more budgets to solve this problem. This virus can attack anyone, and the reaction is very fast if the person has a congenital or comorbid disease. One of the dangerous situation is when it gets to the heart or cardiac.
Advertisement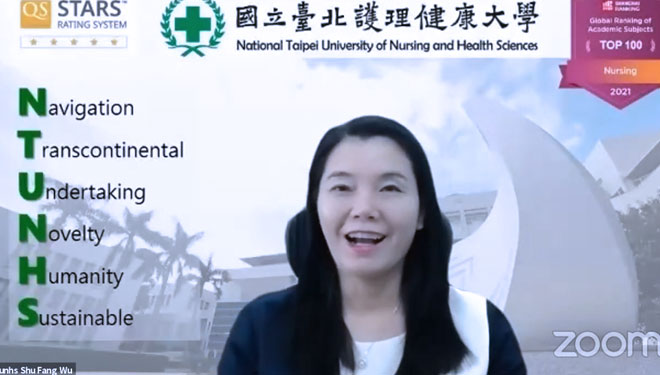 The heart disease also became COVID-19 comorbid. Covid-19 pandemic increased number of mortality on the heart disease patients. Cardiac arrest was a condition that can be faced by people with heacardiac disease.
Cardiac arrest arose emergency condition that need a rapid and appropriate management. Thereby, nurse which eventually will face and take care of cardiovascular patient needs to improve cognitive, psychomotor, and affection skills in caring heart disease patients.
Through the medical surgery nursing and emergency nursing, student will be taught about heart disease as non-communicable disease, management and nursing care for heart disease. That's what the conference are for.
In his remarks, the Rector of the UMKT, Prof. Bambang Setiaji who happened to attend the conference online said that the purpose of this activity was to increase the knowledge of students in the field of nursing.
"This confererence was held in order to improve nursing students' knowledge about nursing care for heart disease patient in Faculty of Nursing. And to improve nursing faculty's knowledge about research in nursing," he said.
President of National Taipei University of Nursing and Health Sciences, Prof. Shu Fang Wu, explain The College of Nursing comprises four departments and one graduate institute.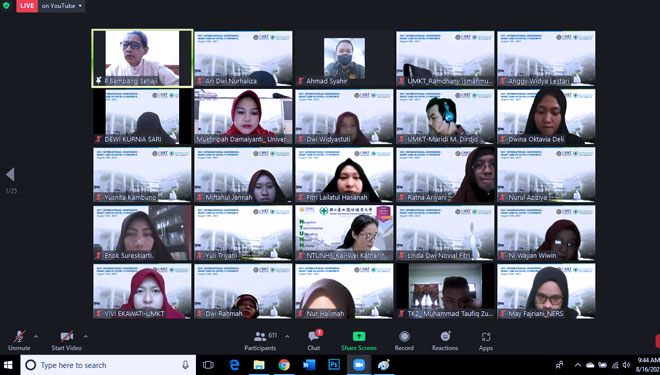 "With more than 50 doctorate-level nursing faculty members, it is the only college with a nursing doctoral program based on a technological and vocational education system. It is also the first college to offer dual-degree programs, nurse practitioner master's programs, and international nursing master's programs, which reconcile multiple healthcare-patented products," Says the woman who graduated from Queensland University of Technology School of Nursing, Brisbane, Australia.
In this event there are two speakers, they are Dr. Javad Alizargar, from National Taipei University of Nursing and Health Sciences Taiwan, with topic is Cardiovascular Disease as COVID-19 Comorbid and Sharing Experience of Nursing Care for Cardiovascular Disease Patient in Taiwan during Covid-19. And Ns. Zulmah Astuty, M.Kep, she's a Nursing Lecturer at UMKT Indonesia, with topic is Nursing Care for Heart Disease Patient in Indonesia during Covid-19.
The discussion was followed by more than 700 people online. Consisting of students and lecturers of these two colleges. Research on the COVID-19 outbreak continues to grow from all sides. This week, a report showed that the risk of effects and harm could be greater for people with heart disease if infected with COVID-19.
"Those patients with cardiac disease which exposed by Covid-19 can will be able to catch severe complications and even death," Said Javad Alizargar in his presentation.
Javad also reminded those who have heart disease to be much more aware of exposure to COVID-19. People with heart disease are expected to take more stringent COVID-19 precautions than people with healthy body conditions.
"People with heart disease if they are positively infected with COVID-19 have a more dangerous risk effect. The virus can affect heart disease patients in several ways," he continued.
According to Zulmah Astuty, presenting about Nursing Care Guide During the Covid-19 pandemic. All acute diseases will be more difficult to treat if the person has a basic disease, namely heart.
"Another problem is that a person with heart disease has a weak immune system. In those with chronic medical conditions, the immune system response tends to be weak in fighting off the virus," she said
Health services in handling the COVID-19 outbreak are a priority of all services provided by the Government, including nursing services. Nurses became the frontline team which resulted in quite a number of nurses who were exposed to COVID-19 who tested positive.
"One of the important aspects in the COVID-19 handling strategy is tracing cases to find out the source of transmission and at the same time minimize the risk of greater transmission," She continued
This International Conference of Cardiac Care which was held by Universitas Muhammadiyah Kalimantan Timur was very exciting. Apart from the two speakers, there were also Associate Professor Kai Wei K. Wang from National Taipei University of Nursing and Health Sciences, and Adi Lukas Kurniawan as researcher at National Taipei University of Nursing and Health Sciences. (*)
**) Ikuti berita terbaru TIMES Indonesia di Google News klik link ini dan jangan lupa di follow.
---
---
---
Konten promosi pada widget ini bukan konten yang diproduksi oleh redaksi TIMES Indonesia. Tidak ada aktivitas jurnalistik dalam pembuatan konten ini.