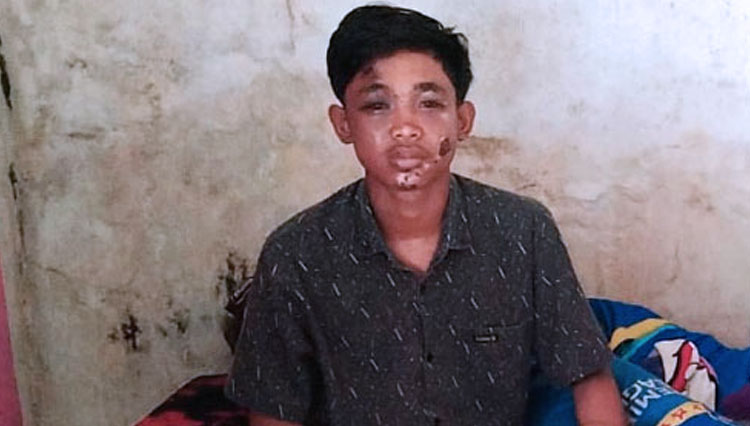 TIMESINDONESIA, JAKARTA – Nur Saguwanto, a 19-year-old guy had to stay at home after getting some injuries on her face and leg. Her face was wounded and swollen, and her leg was broken from the soccer tragedy at Kanjuruhan Stadium he watched on Saturday 91/10/2022).
He apparently couldn't do anything besides sitting on his bed. Her body was so weak and haven't been recovered since the accident. From his bed he told his side of story that makes him get all his wound. He is now being treated at home by his family especially his parents.
Advertisement
The guy sat on the 11 rows (tribune) of the stadium when police started to shoot the tear gas. He saw several people had run to the field before the fire opened. "And suddenly the tear gas coming to my direction," he said.
"After the fire, I didn't remember anything. Ijust knew I was in the hospital on Sunday morning. I tried to call my family, but I couldn't see my phone screen for my eyes was blurry and I felt so dizzy," he said.
Saguwanto who was fainted right after taking some huge amount of gas was taken to the hospital right after the accident. He didn't know who bring him there or how he gets there. He was awakened with several people around him having some injuries around their body.
Saguwanto taking a flash on how crowd was the hospital when he got treated there. He was so afraid and traumatic for what had happened to him in the stadium. "Tears keep coming through my eyes, I stopped crying when I met my family," he said.
The hospital told his family to take him home and get treated at home regarding to the crowd and overload capacities happened in the hospital. "I called the local medic to come home and do home serves and give him some IV," his mother said.
Though the government has stated that all the treatment in the hospital was free but it's not when the patient was brought home. This treatment considered a huge cost, for Saguwanto was not coming from a wealthy family.
Apart of all the cost his family has to handle, Saguwanto expect he will be recovered soon and could do his activity as a student at the local Senior High. The soccer tragedy in Kanjuruhan Stadium has left him such a bad memory that will last forever in his mind. (*)
**) Ikuti berita terbaru TIMES Indonesia di Google News klik link ini dan jangan lupa di follow.
---
---
---