English
The Immigration to Educate the Foreign Investor about Limited Stay Permit
Kamis, 27 Oktober 2022 - 14:18 |
18.70k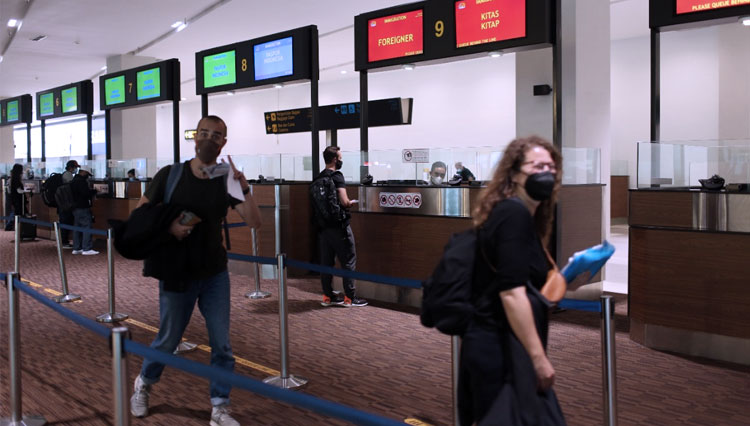 TIMESINDONESIA, BANDUNG – To ease the foreign investors access towards all the facilities and those stay permit in Indonesia, the immigration has started to let those people find out more about KITAS or the Limited Stay Permit Card. They have started to educate all the foreigner coming to their office or those they find in immigration office at the airport.
For this issue, Indonesian immigration has created an online website to ease their access to get this card. They have taken so much complain about the difficult access to get this card before. This takes an effect on their business the run in the country.
The latest complain was about the hard access to get visa on arrival (VoA) and the limited stay permit itself. This issue even become the president Joko Widodo's consideration. Toward the issue, the president asked the immigration to renew their service and made a huge change about it.
Supporting the president, Afdian Perdana an infestation analyst said that the long immigration process has made the foreign investors a bit worry about the well-being of their business. "What the president said was true, the was a (long) bureau process which tackle the process of their limited stay permit," he said.
Afdian also said that the immigration website has taken a big role in changing their slow service. "It was so helpful and simple. Back then we have to go to Regional Immigration Office and then to the embassy," he added.
Afdian also said that the main issue was not on the immigration but more to supporting institution that delay the process. Let's say from those Badan Koordinasi Penanaman Modal (BKPM) or The Investment Coordinating Board.
Afdian also explain that most of the complaint were about the long process and high cost they should pay. "They need to spend some expenses not only for the immigration but also taxes, public notary, BKPM recommendation and more," he explained.
For all his long, Afdian has helped those investors coming from France, Russia, Belgium, Italy and so many other investors from around the world. he helped them to do some management and monitoring the process till all ended.
As for your information, the business license will be handled by Online Single Submission (OSS) which was run by The Investment Coordinating Board. "Only those with foreign investment or PMA allowed to stay," he emphasized.
Afdian also said that nowadays it needs around 2 to 3 weeks to finish their application including those documents from Persetujuan Kesesuain Kegiatan Pemanfaatan Ruang (PKKPR). This process was done after 1 to 2 weeks waiting for the document of PMA.
Thus, then proceeded with NIG and once it done you could apply for limited stay permit card. There will be some additional time if you willing to apply for limited stay permit from business visa. It will need around 3 days to cover.
Instead of those time-consuming document preparation and assessments, there will be some huge amount of money needed to process all these things. "The foreign investors needs to get some further information about Limited Stay Permit Card not only from immigration but also some other professional about this issue," Afdian ended.
**) Ikuti berita terbaru TIMES Indonesia di Google News klik link ini dan jangan lupa di follow.
---
---
---