English
World Women Figures Speak at the R20 Forum
Jumat, 04 November 2022 - 01:06 |
21.43k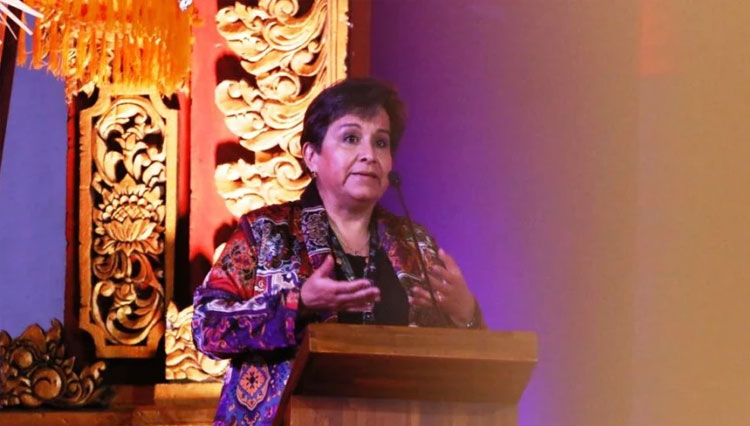 TIMESINDONESIA, JAKARTA – Forum R20 (G20 Religion Forum) presents a number of female figures, since the event which took place on November 2 and 3, 2022, in Nusa Dua, Badung, Bali. A number of inspiring women's names appeared in the G20 series in Indonesia.
In the first session of the R20 Forum, there were 3 plenary sessions, the delegation from the Community of the International Council of Sant'Edgiodio, Valeria Martano from Italy filled the panel discussion. Another female speaker came from Harvard Law School, United States, who is also the Former United States
Ambassador to the Holy See, Mary Ann Glendon with her speech entitled "The Quest for Shared Civilization".
Then, there is a woman from the United States, Jacqueline C Rivers. She is the Executive Director of the Seymour Institute for the Black Church "From Truth to Reconciliation, Forgiveness, and Peaceful Co-Existence".
Furthermore, in the second day of the R20, which was divided into 3 plenary sessions, Professor Seminario Rabínico Latinoamericano Argentina, Rabbi Silvina
Chemen delivered her speech. In her presentation, she raised the issue of "The Status of Non-Jews in Jewish Law and Lore Today".
The next female speaker came from Aid to the Church in Need International, Marcela Szymanski from Mexico. She explains her ideas through a speech entitled "Bringing Moral and Spiritual Values to Bear in Institutional and Governmental Decision-making".
For your information, the R20 Forum is an initiative of the Nahdlatul Ulama Executive Board (PBNU) in collaboration with an International Islamic organization based in Saudi Arabia, the Muslim World League (MWL). A total of 32 countries confirmed to be present at the R20 event.
A total of 338 participants were confirmed to attend, it consists of 124 participants from abroad. The forum presented 45 speakers from five continents.
Previously, the the CHief of PBNU KH Yahya Cholil Staquf (Gus Yahya) said that after the R20 in Bali, the participants will be taken to Yogyakarta and Magelang,
Central Java. Gus Yahya explained that the whole series of visits to Yogyakarta and Magelang was aimed to show the harmony of Indonesia.
The destinations to be visited include the Yogyakarta Palace, Prambanan Temple, Pandanaran Islamic Boarding School, Sunan Kalijaga State Islamic University, and Borobudur Temple.
The G20 or R20 Religious Forum was held by PBNU together with the Muslim World League (MWL) in Nusa Dua, Bali, on November 2-3, 2022. There were 338 participants confirmed joining R20 event, coming from 32 countries. A total of 124 came from abroad. The forum presented 45 speakers from five continents. (*)
**) Ikuti berita terbaru TIMES Indonesia di Google News klik link ini dan jangan lupa di follow.
---
---
---