English
G20 Indonesia
3rd Session of G20 Indonesia, Jokowi: Stop the War
Rabu, 16 November 2022 - 14:09 |
15.33k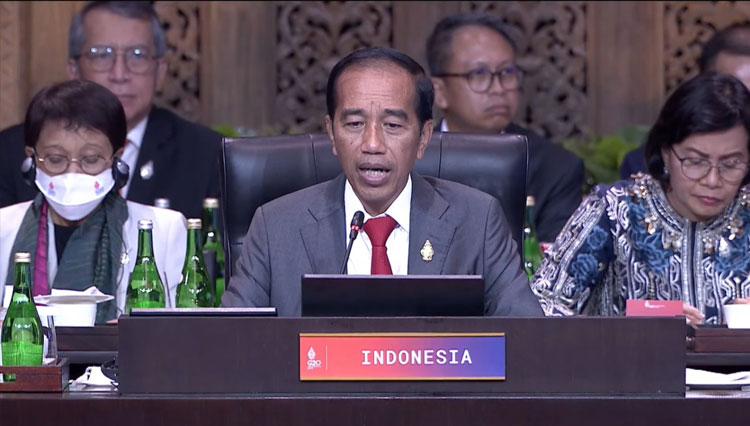 TIMESINDONESIA, BALI – Jokowi reopened the G20 Indonesia for the 3rd session in Bali on Wednesday (16/11/2022). During the opening speech, the President of Indonesia remind the delegations about what he had said a day before when he opened the summit.
"To begin the 3rd session allow me to repeat the message I have delivered during the summit yesterday. STOP THE WAR, I repeat, STOP THE WAR," Jokowi said during the opening speech.
According to him, there are a lot of thing put at stake for this. War will only bring some misery and put people in danger. The war will just make the economic recovery having some more obstacle.
He also underlined that leaders has such such a huge responsibility to make sure a good situation for a better future of the world. This was related to the development of digital economy in the world.
According to him, the digital economy has such a big role for the success for world economy. "Excellencies, digital economy is a key for the world economy in the future, it works as a resilience mile stone during the pandemic," he added.
Jokowi also stated that the digital economy has taken an important part by giving 15,5% global GDP. It has also help to bring more job opportunity and give the lower society a chance to be part of this global economy reformation.
Jokowi during his opening speech also said that the country supports the digital transformation program to accelerate the global recovery. Indonesia also supports the development of digital innovation network for the sake of the world's digital economy.
"G20 has to be able to build digital trust including through the management of global digital," Jokowi ending up his speech on G20 Indonesia session 3. (*)
**) Ikuti berita terbaru TIMES Indonesia di Google News klik link ini dan jangan lupa di follow.
---
---
---