English
Arnold Poernomo on G20 Indonesia, Behind the Closed Door
Jumat, 25 November 2022 - 19:03 |
46.28k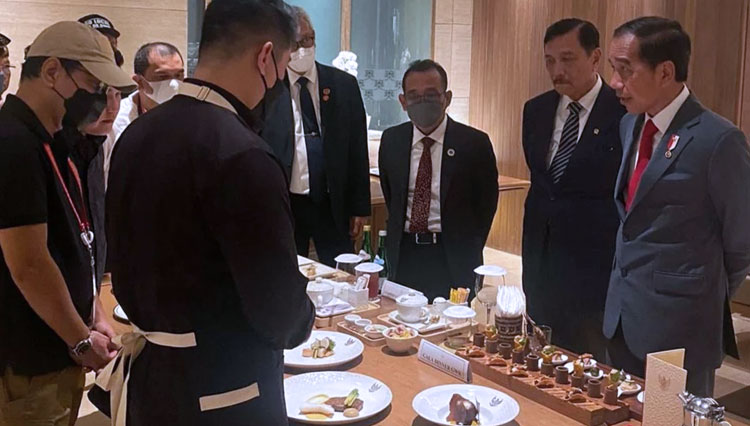 TIMESINDONESIA, JAKARTA – Chef Arnold Poernomo is one of the figures who played a role in the successful of the G20 Indonesia Summit in Bali. Chef Arnold further shared the story behind the closed door of the international conference which was held on November 15-16, 2022.
Chef Arnold Poernomo shared his experience when he was doing his job as the appointed cook for the G20 Indonesia Summit gala dinner. The gala dinner itself was attended by several world leaders such as Indonesian President Joko Widodo, Chinese President Xi Jinping, British Prime Minister Rishi Sunak, Canada's Prime Minister Justin Trudeau, Italian Prime Minister Giorgia Meloni, and South Korean President Yoon Seok-Yul, and many more.
Chef Arnold said the moment was one of the most difficult events of his life. Due to the fact that all the eyes of the world are on Indonesia, Arnold is similarly one of the people behind the scenes to make a successful of these international events.
"It was probably one of the most difficult and critical experiences of my life. All eyes were on us and to everyone working behind the scenes," wrote the verified account @Arnold Poernomo in his photo upload on Instagram, Thursday (11/17/2022).
Despite that, Chef Arnold considered that his role at the G20 Indonesia Summit 2022 is a matter of his pride, especially in serving the nation and state.
"We did our best to serve our nation and to make Bapak (the way people called someone they respect-Jokowi in this case) and Indonesia proud," he continued on his Instagram post.
Chef Arnold equally shared the moment when he served food in front of President Jokowi who was also accompanied by Coordinating Minister for Maritime and Investment Affairs, Luhut Binsar Pandjaitan.
Chef Arnold looked so tense standing at the end of the table, where on the table plate up some dishes of food to be served to Indonesia President Joko Widodo.
Chef Arnold says that if this is the real pressure test. "No doubt this is the real pressure test," Chef Arnold said.
On one hand, the food menu cooked by Chef Arnold and his team for the G20 Indonesia gala dinner akin to a fruit salad with Balinese sauce (rujak saus Bali), Manado corn kernel fritters (bakwan jagung Manado), and beef steak with rendang spice. (*)
**) Ikuti berita terbaru TIMES Indonesia di Google News klik link ini dan jangan lupa di follow.
Advertisement
---
---
---
Konten promosi pada widget ini bukan konten yang diproduksi oleh redaksi TIMES Indonesia. Tidak ada aktivitas jurnalistik dalam pembuatan konten ini.