English
Kkwabaegi: Korean Sweet Twisted Doughnut to Accompany You on Rainy Days
Selasa, 13 Desember 2022 - 03:31 |
34.11k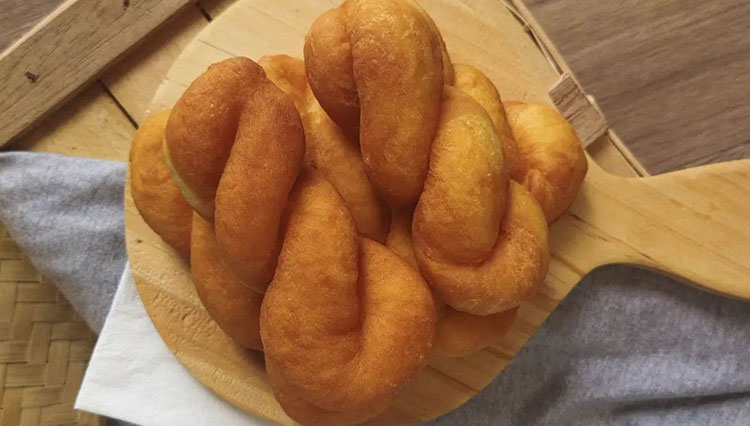 TIMESINDONESIA, JAKARTA – December is a rainy season, which is a perfect moment for us to enjoy the day with some warm beverages and sweet snacks. Kkwabaegi, which is also known as twisted doughnut from Korea, can be one of the best snacks to enjoy during the rainy season.
Kkwabaegi is a classic twisted Korean donut that can be found at Korean bakeries and Korean street food venders. This snack is soft and fluffy on the inside with a perfect golden brown on the outside, and is usually covered in cinnamon sugar.
This snack is relatively easy to make. Here is the simple recipe to make Kkwabaegi.
Advertisement
Ingredients:
250 grams of wheat flour
180 ml of full cream milk
35 grams of butter
2 tbsp sugar
1 tsp instant yeast
1/4 tsp salt
Toppings:
Icing sugar
Cinnamon powder
Cooking method:
Mix sugar and full cream milk, then add some instant yeast and melted butter. Mixed well.
Pour the milk mixture into a bowl containing wheat flour and salt. Then, mix until the dough starts to come together. Knead the dough until no more dry ingredients are visible.
Cover and let the dough rest in a warm area for about 45 to 60 minutes until doubled.
After the dough rises, cut the dough into equal ten parts. Shape them into a circle and let them rest for around 15 minutes.
Shape the dough into a plaid. Roll the dough into a thin rope. With your hands at each end of the rope, roll the dough in opposite directions to create a twisted effect. Repeat with the remaining dough.
Let the dough sit for around 15 to 30 minutes until it rises.
Heat some cooking oil and fry the dough until the color is golden brown. Sprinkle some powdered sugar and powdered cinnamon as the topping. Cooking tips:
Make sure you are using an active instant yeast to make the dough rise perfectly.
Fry the dough with a medium heat so that the dough will not become too dark before the inside is cooked. Meanwhile, if the temperature is too low, the Korean donuts will become soggy and greasy.
Before adding the powdered sugar and the powdered cinnamon as the topping, make sure the dough is not greasy so that the topping will not get absorbed into the dough.
Do not add extra flour into the dough, because it will make the donuts dense and tough instead of light and fluffy.
Use fresh oil if possible. In general, donuts in general will taste the best when fried in fresh oil. It will be less greasy as well.
How to keep Kkwabaegi in storage:
Leftover Kkwabaegi can be stored in an airtight container for up to 3 days at room temperature. Make sure they are completely cooled before storing.
How to reheat:
Actually, Kkwabaegi is best enjoyed warm or a few hours after cooking. To reheat, you can microwave them for 10 to 15 seconds for room temperature ones, or 20 to 25 seconds for frozen ones. If you do not use a microwave, you can bake or fry them with medium heat for about 2 to 3 minutes for room temperature ones or about 5 minutes for frozen ones.
Enjoy your sweet snack Kkwabaegi while you are watching your favorite Korean drama! (*)
**) Ikuti berita terbaru TIMES Indonesia di Google News klik link ini dan jangan lupa di follow.
---
---
---