English
This Batik will Features Your Face on the Fabric
Minggu, 12 Februari 2023 - 00:11 |
41.42k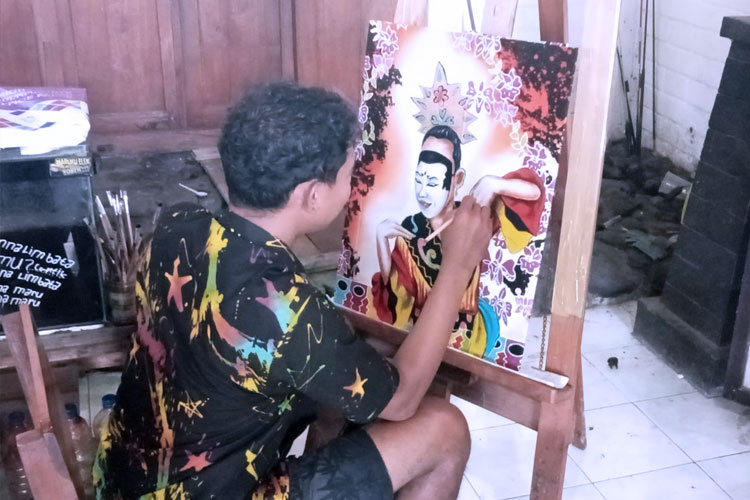 TIMESINDONESIA, YOGYAKARTA – It is a common thing to find your sketch on a canvas. But have you ever had your face painted on a batik? If you haven't then you need to check this Batik Lukis Wajah of Sidomukti Art Gallery of Giriloyo Imogiri Bantul.
This gallery was belong to Ahyar Muzaki. It's a family business which was established by his family for years. Back then Ahyar and his mother who run the business together only take some regular batik order from the customers.
Advertisement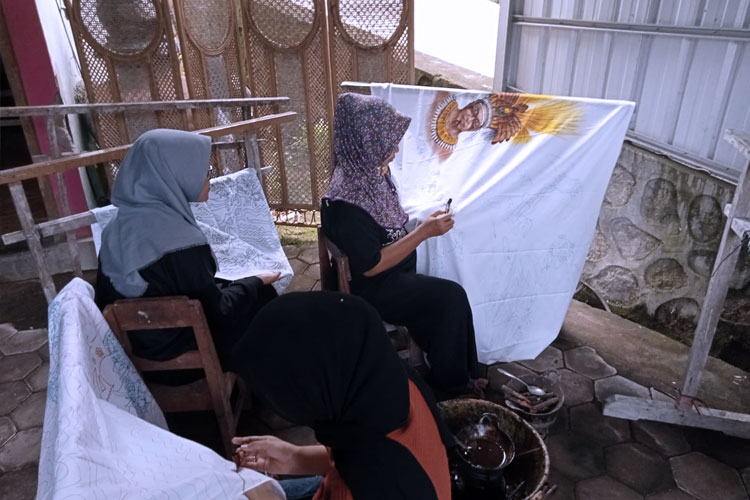 The workers doing the painting on the fabric. (Photo: Totok Hidayat/TIMES Indonesia)
But then Ahyar tried his luck by painting some public figure face in his batik like President, national figures, and display it during an exhibition. Since then more order started to appear with special request of certain faces.
In 2013, more order keeps coming in especially after the government stated that November 3 will be national Batik Day for Indonesia right after UNESCO stated that Batik has become one national heritage of the country. Some government officials including school and some private company started to put their name on the waiting for the order.
The Price for the Batik Lukis Wajah
Every 2 weeks Ahyar could finish around 20 pieces of Batik Lukis Wajah order. Each set will cost around IDR 750 K to IDR 2 M depends on the complexity of the pattern. The customer will send him a picture to be painted on the fabric.
As for now, Ahyar has had his own regular customers. One of them is the from Papua. They asked for a specific batik with the head of the leader of their tribe on it. This order will come once in every 2 weeks.
A set of batik will range from 1 x 2.5 meter long in size. He used cotton silk and some fabric dye with no salt in it. During the process he will also use tjanting or traditional batik pen. The waxing, coloring, dry wash was also still using traditional process to maintain the quality.
"We keep the basic rule of creating batik tulis for it was my mother wishes to preserve the tradition," the guy who has had 3 children said on the gallery on Tuesday (7/2/2023).
Taking Unemployed Neighbors to Work with Them
In order to fulfill all the order, Ahyar took his neighbors to work with him. Those neighbors didn't have a job at first. And by joining his company now they can help support the family to meet his need. Some of them are the youth that still have some attention towards the industry.
This Batik Tulis Wajah has also gotten some attention from the local government. They appreciate for what he had done by support them with funding. "We hope this batik could steal youth attention to love batik more," Agus Sulistyana, the Head of Cooperation, MSMe Industry and Trading of Bantul said.
With featuring the face of public figure or a person, this design becomes the answer of how flexible a batik should be. The Batik Lukis Wajah also very suitable to wear for any occasion either formal or non normal even for children to the elder.
**) Ikuti berita terbaru TIMES Indonesia di Google News klik link ini dan jangan lupa di follow.
---
---
---
Konten promosi pada widget ini bukan konten yang diproduksi oleh redaksi TIMES Indonesia. Tidak ada aktivitas jurnalistik dalam pembuatan konten ini.