English
Bongko Kopyor of Gresik and Its Ultimate Recipe
Minggu, 26 Maret 2023 - 03:14 |
48.52k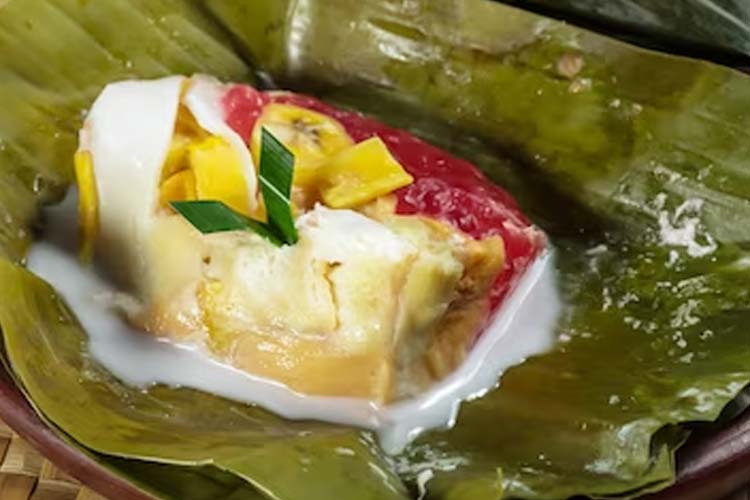 TIMESINDONESIA, JAKARTA – Tasting the local dessert will be a wonderful experience to have. Including this Bongko Kopyor of Gresik. The sweetness combined with the savoury taste will make you dream of this dish and wish you had it served everyday on your table.
This dish is some kind of festive food in Gresik. The local usually will have it during Ramadan. You will easily find it around the local market or folks market during this occasion. Just like what Nur Hamidah did in this Ramadan.
Advertisement
This lady has a vendor around Perum GKB Gresik with Bongko Kopyor as it main dishes. He started to open the vendor at 14.00 to 16.00 local western times. She offers the dessert for only IDR 8 yo 10 K/pax.
"I am a reseller. Someone in Manyar (a place in Gresik) made it and I took it and brought it to the customers. I get around Rp 2 to 4 K/pax from seliing this dessert," Nur Hamidah said.
Hamidah revealed that she only did this during Ramadan. As in normal day she was focusing her life to be a house wife. "It's a tradition to have Bongko Kopyor on your table during iftar time. And that's waht make the customers keep coming back to me," she added.
The Secret Recipe of Bongko Kopyor
Hamidah also spill out the recipe to make this elegant flavour pop out in your mouth. She said that the extravagant taste was taken from the kopyor or young coconut flesh which was added into it.
The ingredients consist of the young coconut flesh added with sugar, ready to serve tapioca pearl, slices of banana, palm fruit, and the rich savoury taste of coconut milk. Some people will add a slice of bread on the base which elevate the taste of this dessert to the cloud nine.
All the ingredients then wrapped up in banana leaves and steamed for minimum 20 minutes. The typical nice fragrant of banana leaves will highlight all the flavour. The sweetness of the sigar combined with the savoury taste of coconut milk and young coconut flesh makes this dish such sight for a sore eyes.
No wonder that the local community of Gresik has put their heart and souk to get the dish during Ramadan. They even brinh the legacy and serve Bongko Kopyor to their kids during this holy month for muslim. (*)
**) Ikuti berita terbaru TIMES Indonesia di Google News klik link ini dan jangan lupa di follow.
---
---
---
Konten promosi pada widget ini bukan konten yang diproduksi oleh redaksi TIMES Indonesia. Tidak ada aktivitas jurnalistik dalam pembuatan konten ini.