English
5 Recommended Cafés along the Route to Mount Bromo via Poncokusumo
Kamis, 18 Mei 2023 - 02:08 |
124.49k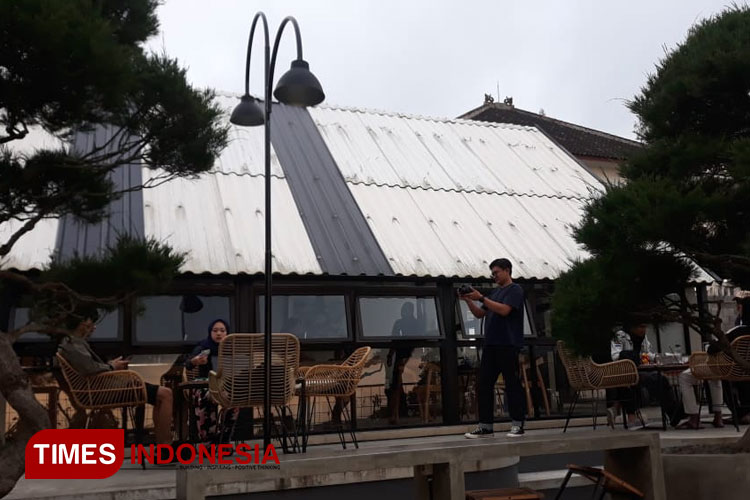 TIMESINDONESIA, MALANG – Poncokusumo, Tumpang is the best route in Malang to go through when you are heading off to Mount Bromo. Travelers will be pampered with the beautiful mountainous view and the refreshing vibes from the green hills along the route.
The fresh atmosphere of the pine forest, the winding roads, and the vast panorama of greeneries add to the pleasant trip. In addition to that, there are many recommended cafes to transit and rest along the route via Poncokusumo - Tumpang.
Advertisement
Lists of Café that you Can Stop by on Your Road Trip to Mount Bromo:
1. Café Alas Senja
Café Alas Senja is a coffee shop that serves coffee-based and non-coffee drinks, snacks, and even heavy meals. With a green view from the south side of the road to Bromo, this place will let the visitors to breathe some revitalizing fresh air.
In addition, this dining venue which is still relatively new and was established in 2022, is very Instagram-worthy and provides both outdoor and indoor areas.
No wonder many travelers stop by this venue after or before heading off to Mount Bromo. Not only travelers, but also students from Malang, come here to do their assignments while enjoying the scrumptious snack and beautiful view. It is open from Tuesday to Sunday from 4:00 PM to 11:59 PM.
2. Pondok Tubing Coffee Shop & Resto
Pondok Tubing Coffee Shop & Resto is a coffee shop located on the main route to Mount Bromo or Mount Semeru. It is located in Gubuklakah Village, Poncokusumo sub-district, to be exact.
This café is open daily from 9:00 AM to 7:00 PM, offering a feeling of living space that is "almost" integrated with nature that comes from the cafe's location at an altitude of 1,200 meters on the edge of a cliff with a mountain panorama. In addition to the café and restaurant, there are also homestays, river tubing, and camping grounds.
3. Chill Café
Chill Café is located at an altitude of around 1300 with a calm and white atmosphere and a super cool and expensive view. It is located in Gubukklakah Village, to be exact.
It provides outdoor and semi-outdoor areas, so it is safe when it is raining. This aesthetic place provides many to be able to afford their food and drinks, starting from only IDR 10,000. It has had several branches, and for the one in Gubukklakah, it is open daily from 10:00 AM to 10:00 PM.
4. Lintangan Café & Resto
Lintangan Café And Resto is not just a place for culinary experiences. This café, which is located on Jalan Raya Tumpang-Gubugklakah, Besuki Utara, Wringinanom, Poncokusumo sub-district, also provides a rest area for visitors heading off to Mount Bromo.
This Café & Resto is open every day from 7:30 AM to 1:30 AM. No wonder many travelers stop by to wait for the departure time to the sunrise spot at Mount Bromo. The menu served at this dining venue is wide in variety and appetizing.
The scenery at Lintangan Café is no less than the others. The green expanse of the locals' fields can pamper the eyes. Besides, the sound of nature can awaken a sense of peace in the heart.
5. Gunung Sari Sunset (GSS)
Gunung Sari Sunset is a tourist attraction on the main road to Bromo from Malang. GSS not only has regular tourist attractions, but also some comfortable cafés and restaurants with some unique wooden buildings.
The buildings are beautifully decorated, making them suitable as a background for selfies. This place has an outdoor concept that offers beautiful pine tree panoramas along the road to Mount Bromo, and of course, the refreshing breeze.
GSS is a perfect spot for those who are looking for a café in the middle of a pine forest with a peaceful atmosphere before or after going to Bromo. It is open daily from 10:00 AM to 7:00 PM. (*)
**) Ikuti berita terbaru TIMES Indonesia di Google News klik link ini dan jangan lupa di follow.
---
---
---