English
AICIS 2023 Surabaya Charter: Promoting Equal Humanity and Rejecting Identity Politics
Jumat, 05 Mei 2023 - 06:59 |
25.68k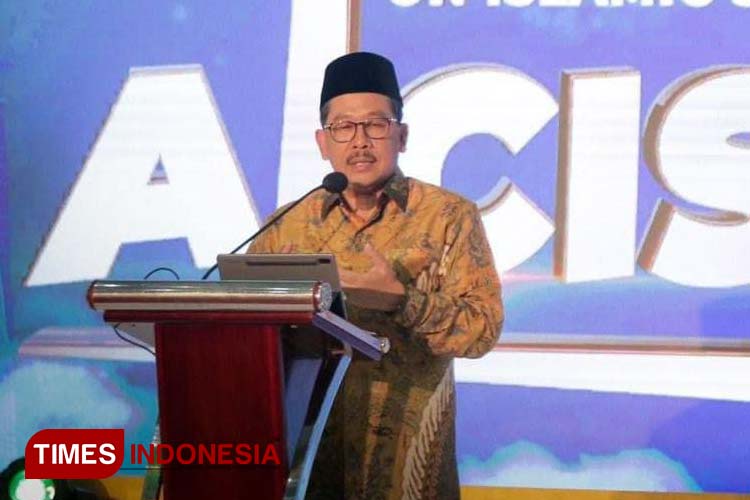 TIMESINDONESIA, SURABAYA – The 22nd Annual International Conference on Islamic Studies (AICIS 2023), held at UIN Sunan Ampel Surabaya, has produced the Surabaya Charter, which consists of six key points.
One of the primary focuses of the charter is the rejection of identity politics, aiming to promote equal humanity, and sustainable peace.
Advertisement
Taking place from May 2, 2023, the AICIS event brought together academics from Islamic Higher Education Institutions (PTKI) and was officially opened by Minister of Religious Affairs Yaqut Cholil Qoumas and closed by Deputy Minister Zainut Tauhid Sa'adi. The conference's theme this year, "Recontextualizing Fiqh for Equal Humanity and Sustainable Peace," provided a platform for discussing issues related to religious doctrines and human rights.
Featuring 180 selected papers divided into 48 parallel classes, the forum included not only fiqh experts from Islamic boarding schools but also international Muslim scholars. Esteemed speakers at the event came from various countries, including Indonesia, the United States, Egypt, Malaysia, England, Turkey, and Australia.
The Surabaya Charter, read by UIN Sunan Ampel Surabaya Rector Ahmad Muzakki, was designed to address three key issues: the role of religion in solving humanitarian crises in a rapidly changing world, the establishment of fiqh as a foundation for human civilization that treats humans equally, and the promotion of fiqh as a source of tolerant and peaceful interfaith relations and coexistence.
These concerns were addressed in the six recommendations of the Surabaya Charter:
1). Recontextualize religious doctrines and thoughts that contradict human dignity, peace, and justice principles.
2). Adopt maqashid al-shariah (the highest purpose of Islamic law) as the guiding principle for fiqh reformulation.
3). Redefine the definition, purpose, and scope of fiqh to integrate Islamic knowledge, social sciences, and human rights in addressing contemporary issues.
4). Reinterpret fiqh doctrines that discriminate against humans based on religion or ethnicity and challenge the concepts that view non-Muslims as unequal and second-class citizens.
5). Reject the use of religion for political purposes and firmly oppose identity politics based on religion.
6). Encourage diversity in tolerant and peaceful coexistence, applying the principles of moderation, equality, and religious justice.
In implementing fiqh as a source of human civilization, the Surabaya Charter emphasizes the importance of treating all humans as equal, valuable, and active partners, rather than passive objects. The charter asserts that religious leaders and scholars share the responsibility of shaping religion for humanity and peace.
AICIS 2023 concluded with the reaffirmation of the rejection of identity politics, emphasizing the importance of equal humanity and sustainable peace in this international event. (*)
**) Ikuti berita terbaru TIMES Indonesia di Google News klik link ini dan jangan lupa di follow.
---
---
---
Konten promosi pada widget ini bukan konten yang diproduksi oleh redaksi TIMES Indonesia. Tidak ada aktivitas jurnalistik dalam pembuatan konten ini.